Set along one of the most spectacular sections of coastline on the island of Ireland, the causeway coastal route is home to some truly breathtaking scenery. Playing host to the iconic Giant's Causeway, the world-renowned Bushmills Distillery, ancient fortresses like Dunluce Castle and punctuated by lively, charming seaside towns, it comes as no surprise that people fall in love with the Causeway Coast when travelling to Northern Ireland.
With so much on offer, you could spend anything from a few days to a few months exploring all this area has to offer and if you're anything like us, you'll find it hard to drag yourself away. The friendly locals and the staggering natural beauty act like a magnet, pulling you back for more and more.
For adventure enthusiasts, there are some amazing experiences to be had both on land and on the water. Whether you want to walk the coastal trails, surf the waves or navigate the coastline by boat, you won't be left disappointed on the Causeway Coast.
Adventure Activities On The Causeway Coast
We spent a few glorious July days enjoying just a few of the adventure highlights the Causeway Coast and Glens region has to offer. If you're heading north, looking to get out of your comfort zone and experience something new with one of the most stunning backdrops the country has to offer, then here are our recommendations. 
Go Coasteering At Ballintoy Harbour 
Coasteering in Ireland is growing in popularity with our rugged coastline offering some incredibly scenic nooks and crannies to enjoy this exciting activity. If you've never heard of coasteering before, it's essentially scrambling, climbing, jumping, diving and generally having as much fun as you possibly can along the shoreline. Push your personal limits and challenge yourself as you negotiate the rocky terrain swim through pools, climb sea stacks and overcome the natural obstacles that the landscape provides.
Teaming up with the guys at Coasteering NI, we pulled on wetsuits, old shoes and strapped on our helmets before heading out from Ballintoy Harbour. We spent the following two and a half hours being lead by the guides through some epic spots – Ballintoy Harbour was featured in Game Of Thrones along with a range of other locations in Northern Ireland. Even though there were big swells the day we were out, we couldn't have felt more at ease and safe with the guides who have a tonne of experience and a real passion for coasteering.
There are jumps ranging from half a metre to 50 metres, depending on how much you want to push yourself. You can jump into the ocean from huge sea stacks or hop into tranquil, protected pools. Just being immersed in the spectacular scenery surrounding you is incredible but being able to interact with it in such a challenging, yet fun way is even better! Brian couldn't help but climb up the 50metre jump again and again and had we not had to leave, he'd probably still be up there! It's a well worthwhile day out for all ages, abilities and group sizes and can be tailored to fit what you're comfortable with.
Be sure to book a few days in advance to avoid disappointment and bring a pair of old closed in shoes and swimming gear for under your wetsuit. Your guides will provide everything else you need including your lifejacket, wetsuit, helmet and they'll even take photos of you throughout the day. Don't forget to bring some food and water for after as there's not much at Ballintoy Harbour and you will definitely work up an appetite!
Surfing With A National Champ At West Strand
The North Antrim coast provides some of the best conditions for surfing in Northern Ireland. In fact, there are not too many places in the country that host so many great breaks in such close proximity. Along the Antrim Coast Road, from Portrush to Portstewart and Portballintrae, there are all sorts of waves, for all levels.
If you have your own gear, Whiterocks is a great choice, offering lefts and rights at the sandbars at the northern end of the beach and it's pretty consistent. Further west, Castlerock has a multitude of peaks and catches a lot of swell but be wary of the rip current near the river mouth. For experienced surfers, the river mouth at Portballintrae offers a short, hollow wave, however, there are extremely strong rips here and swimming is not advisable, so don't paddle out unless you really know what you're doing!
If you're just beginning or want to improve your surfing, one of the top things to do in Portrush is to take a surf lesson. Portrush West Strand is an ideal spot for learning and honing your skills before seeking out more challenging spots along the Causeway Coast.
Portrush Surf School is run by Martin 'TK' Kelly, Irish team surfer and 11 times National Bodyboard Champion. With over 20 years experience in the sport, you're not going to find a surf school with more experience or local knowledge. We had over two hours in the water with TK and Jonny who gave us some great instruction, tips and were nothing but patient. They're open all year round and with the best waves in winter, braving the cold water will be more than worth it! Visit their base at the Portrush Yacht Club on Harbour Rd (where they have hot showers for after your surf!) to get your rentals and lessons sorted in Portrush.
Get A Different Perspective On A Sea Tour From Portrush  
Appreciating the beauty of the Causeway Coast from land is one thing but seeing it from the sea gives you an entirely different perspective. Sure you can walk to the Amphitheatre viewpoint and peer into the massive, cavernous bay. And seeing Dunluce Castle from land is certainly worthwhile. However, to really appreciate the sheer size of the Amphitheatre or just how perched on the edge of the North Atlantic the medieval castle is, it's best to get out on the water.
Steeped in history, folklore, and legend, almost every element of the coastline here has some kind of a story behind it. The Giant's Causeway itself, tells the story of the Irish giant, Fionn MacCumhaill who built the Causeway to cross over to Scotland to meet Scottish giant Benandonner who had challenged him to a fight. Above the Causeway are the organ pipes Fionn used to play and the chimney stack above the Amphitheatre is said to show when the giant is home.
In slightly more recent times, The Girona, part of the Spanish Armada fleet met its end off Lacada Point in 1588, when the ship hit a reef just offshore leaving a trove of treasure which lay undisturbed off the North Antrim Coast for the better part of four centuries. And the white cliffs that line the coast reflect images of elephants, hearts and even Fionn MacCumhaill himself … if you know where to look.
With so many tales to hear and history to take in, what better way to hear these stories than from a local who's passionate about the area. We took a trip with Portrush Sea Tours and listened with interest as skipper Crawford told stories, pointed out interesting landmarks and gave us a unique take on this beautiful stretch of coastline. Their vessel, the Stormforce 11 is a fast rib and took us safely along the coast, it was smooth on the water and they even have it covered in to protect guests from spray and to keep you warm – you can't ask for better than that!
Go Sea Fishing And Catch Your Breakfast With Causeway Coast Foodie Tours
Everything's better when you have to work a little harder for it, right? And every meal is so much better when it's as fresh as fresh can be! Well, put your hands together as this final experience is something truly unique and allows you the chance to catch yourself some local fresh fish for your breakfast, straight from the ocean onto your plate. Wendy Gallagher started Causeway Coast Foodie Tours in 2016 and offers this brilliant 'Catch and Sea tour', as well as five other tours, which highlight the amazing local produce from the surrounding area.
Heading out at dawn on a fishing boat was a first for us and we're sure it will be for you too. With barely an ounce of fishing experience between us, we were worried that we might be going home hungry but thankfully, with the help of skipper Richard Connor and the expert guidance of Charlie Adjey, we were in good hands.
As the sun started to rise over the headland, we timidly cast our lines into the cold waters of the North Atlantic, fingers firmly crossed. It began with one bite, then two and before we knew it almost everyone in our crew had caught a fish and we even had a few to spare. As the breeze picked up and the squalls started to move in across the sky, we made our way back towards Portrush Harbour, the skies above us teeming with gulls, to learn more about the fish we had caught and the other stunning local produce on offer in the area.
Cosying up in Babushka, a gorgeous café in Portrush, run by local chef George Nelson, we were first treated to different coffees from the café. George talked us through each one, highlighting the notes, the origins and the differences between each. While the caffeine kicked in, George and his team prepared the mackerel we had caught that morning served on local sourdough bread, topped with a perfect poached free-range egg and drizzled with Irish rapeseed oil.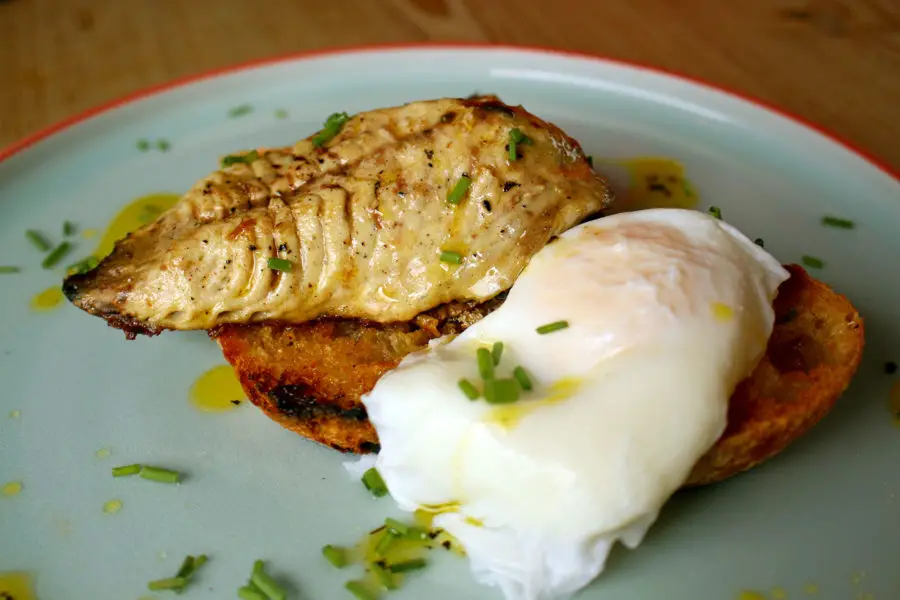 After a morning on the high seas we had truly earned our breakfast and trust us, it was the best meal we had in quite a while. There's nothing quite like eating your own catch to kick-start your day! For a truly unique experience, try your luck at catching your breakfast, it was certainly a morning to remember. 
Where To Stay On The Causeway Coast
Options for accommodation on the Causeway Coast are vast, with everything from campsites to hostels to mid-range hotels, boutique B&B's and upmarket hotels. No matter what your budget, you will find somewhere suitable to base yourself to explore this beautiful region.
Basing yourself in Portstewart is our recommendation as the long quiet beach is a great way to relax after a day of adventure. Whether you've been scrambling over rocks, surfing at Portrush, cruising the coast in search of a different perspective or you're just looking forward to heading out fishing for your breakfast the following morning, sitting with a drink in hand at Harry's Shack, watching the sunset over the 3.2kilometre long stretch of sand at Portstewart really is a great way to unwind.
Treat yourself to a few nights in a five star B&B at Portstewart at the stunning, family run At The Beach B&B with incredible views over Portstewart Strand and easy access to the beach below. Glenda and her sons will make you feel more than welcome; they know the area inside out and really go above and beyond for anyone staying with them. With only five rooms, you're guaranteed that personal touch and are advised to book well in advance to avoid disappointment.
Adventure Awaits On The Antrim Coast
Whether you're road tripping around Ireland, going on holiday with the family or looking for a weekend break away, the Causeway Coast offers plenty to see and do. Enjoy some of the unique adventures mentioned above, or take in some of the must-see, iconic sights along this breathtaking coastline. However, you choose to spend your time, one thing is for sure, with jaw-dropping scenery, a rich culture, fascinating history and friendly, welcoming locals, you'll be spoilt for choice in this beautiful slice of Northern Ireland.
Have you visited Northern Ireland's Causeway Coast? What were your favourite experiences? Let us know in the comments below.
Pin It!