Incredible hiking, jaw-dropping scenery, glaciers to explore, tectonic plates to dive between; why in the name of travel would Iceland not be on our bucket list? We've looked longingly at Facebook posts, drooled over Instagram photos, gotten lost in articles and watched it come to life on our computer screens in videos. However, as for most out there, this isn't enough! It simply reaffirms why we want to visit this incredible country. And for the outdoor enthusiast, adventure traveller or adrenaline junkie it's somewhere you simply have to want to go.
Why Iceland Is On Our Bucket List
The Landscape
Like we said, we've never been to Iceland, but we've always wanted to visit. Pictures in National Geographic make it seem almost alien, but it is as real as real can be and so, so beautiful. For nature junkies like us, Iceland seems like an unexplored paradise. The Golden Circle in Iceland is a classic 300-kilometre long route that loops from the capital, Reykjavík to the centre of the country, and includes Thingvellir National Park, Gullfoss Waterfall, and the geysers and hot springs in the region around Geysir. When we finally get around to visiting this amazing country this will be the beginning of our adventure.
You Can Hike Inside A volcano
Iceland seems custom made for thrill seekers. Did you know Iceland is the only country in the world where you can hike into a volcano? Sure, there are loads of countries where you can hike up volcanoes or around the crater. We got pretty close to the crater of Mount Kerinci in Sumatra in terrible weather conditions; we saw steam hiss from the vents at the summit of Gunung Sibayak and circled the crater of Mount Fuji; but to hike inside a volcano, wow! The Thrihnukagigur volcano is dormant, so no need to worry about bringing your lava-proof swimming gear, but good hiking shoes are recommended for the 400 feet descent into the volcano. We're buzzing at just the thoughts of it!
Did Someone Say Road Trip?
We are suckers for a road trip. Whether it's in a beat up old car down the west coast of Ireland or on a motorbike into remote, military controlled areas of Northern India, road trips just get us excited. And Iceland is an epic road trip destination. In fact, it's the most popular way to explore the country. An Iceland road trip? Yes, please!
The best thing about self-driving is the ability to go at your own pace, stop to take photos when you want to. Decide when and where you go, take breaks and most importantly get lost! The Golden Circle, we hear, is the most popular route but you can always make up your own. Ah, the freedom of your own transport, is there anything like it?
Freezing Cold Water Sports
Iceland is certainly not the country that automatically springs to mind when thinking of a water sports holiday destination. However, there are more reasons to brave the frigid temperatures here than you might think. I saw Iceland popping up in surfing magazines a few years back, with hardcore crews making the trip up north to uncrowded lineups and perfect waves. The water might be cold but with wetsuit technology improving all the time, there's no reason these waves can't be ridden.
From above the surface to below, Iceland is for water lovers. We're keen scuba divers and Iceland offers an experience like no other when it comes to diving. Silfra is, believe it or not, one of the world's top dive sites. Why? It's all about the location. Perched on a rift between the tectonic plates, you can dive between the American and Eurasian continents. How's the visibility we hear you ask? How about 100metres? Of course, you'll have to brave the 2-4 °C temperatures but can you imagine the colours, the underwater topography and floating in that crystal clear abyss where the earth quite literally splits wide open? Incredible!
Sea Kayaking on the Costa Brava in Catalonia was amazing or floating through the turquoise waters of the Algarve in Portugal on paddle power alone with the sun beating down was beautiful. But how about sea kayaking through a glacial fjord? The Hvalfjörður inlet is set in a ring of mountains that stretch upwards of 3,000 feet above sea level. It's dramatic scenery like that that will keep you gliding through the cold waters, no matter how tired you're getting. It sounds like a dream.
The Hiking, Oh The Hiking!
Hiking is definitely a big draw for us and no matter where we go, we're always looking for what trails are nearby. There's nothing quite like getting away from it all, getting lost in the wilderness and pushing yourself beyond your capabilities. Whether it's hiking to the summit of Ireland's highest mountain, summiting Jebel Toubkal, North Africa's tallest peak or trekking through the Everest Region in Nepal for 23days, hiking gets our motor running.
In Iceland, the Laugavegur trek is the most popular hiking trail, a 55-kilometre trek between Landmannalaugar and Þórsmörk which takes four to five days to complete. With optional side treks to add on, glaciers to cross, incredible natural beauty to get lost in and crisp, clean air to breath, this one is a no brainer. You can fill your bottle from the stream if you're thirsty, no need for purification tablets; it's that untouched!
You can tack on the Fimmvörðuháls hiking trail for an extended journey, taking in a brand new mountain along the route where smoke is still rising from ground that remains warm. Apparently, you can toast a sandwich by wrapping it in tinfoil and burying it in the soil here. An Icelandic soil-toasted cheesy- now that's something we'd like to try!
And the best news for any other hiking fans out there is that this is just the beginning. These are the most popular trails in the country but there are three national parks in the country littered with trails and ready for exploration. From day hikes to multi-day treks, there's something for every fitness level. Whether you want to hike to the hot river in Reykjadalur outside of Reykjavík or to the top of Glymur, Iceland's highest waterfall, there really is something for every taste.
Is That All?
Absolutely not – this is just the tip of the Iceland! (Get it?! Iceberg-Iceland!) You can snowmobile, go dogsledding, get some of the best views of the Northern Lights in the world and eat strange local delicacies such as pylsur (Icelandic hot dogs!), shark, horse or even the bizarre Hrútspungar – pickled ram's testicles! There seems to be a never-ending list of experiences, adventures and possibilities when it comes to Iceland.
We've never written a post before about a place we haven't been but Iceland grabs our attention in a special way. It ticks all the boxes for real exploration, independent travel and experiencing something completely different. For now, it will remain on our bucket list but when that day comes (and it will) that we are boarding a flight to the Land of Fire and Ice, you can be full sure that we will be frothing at the chance to explore this incredible country.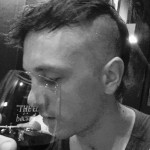 Brian is a travel writer, photographer, blogger, travel addict and adventure-junkie. Being outdoors, getting off the beaten track and outside his comfort zone is what makes him tick. Brian's the dreamer in the relationship; when he's not travelling, he's dreaming about it! Keeping fit, cooking, music and red wine take up the rest of his time.
SUBSCRIBE FOR OUR FREE EBOOK
Sign up for our free travel photography Ebook "Faces of Nepal" and you'll also receive our monthly newsletter.