It doesn't feel like that long ago that we were sitting down to write about our travels in 2014. But here we are a year on, a year wiser (not really!) and with a whole load of incredible travel experiences under our belt. This travel year has taken us through 4 continents and 8 countries, three of which we lived in for a little bit. There have been huge highs and lows throughout the last twelve months but all in all, it's been an incredible year of travel and adventure.
Our Travel Year In Review 2015
Our Travel Year Begins In Bucharest, Romania
Not long after writing our 2014 travel year in review, we were back on the road in early January headed to Romania for the first time. Packing for the cold was a new experience for us but with a snowboard bag to squeeze a few extra layers into, we managed it. En route to Bulgaria, we stopped off in Bucharest for a few days to explore the Romanian capital and see the second-largest building in the world. After which, we travelled by train through the snow-covered countryside to Sofia, Bulgaria.
Living In, Snowboarding and Loving Sofia, Bulgaria
We fell head over heels in love with Sofia, it's hands down our favourite capital city in Europe. It's got a raw edge to it, subcultures are alive and well, it's super affordable, a foodie's heaven and the locals are a cool, friendly bunch. We lived in Sofia for 6weeks, we made some great local friends, Noelle practiced yoga at a local studio a few times a day and we explored the city in our free time. Brian was able to access the nearby mountains to snowboard to his heart's content and the ample choice of veggie restaurants and lively bars kept us more than entertained.
We travelled to the small town of Pernik for the Surva masquerade festival, the biggest of its kind in the Balkans and Eastern Europe. We had plans to travel much more extensively throughout Bulgaria and the Balkans but we ended up rushing home when Noelle's Nanny became critically ill. It was a tough time but we were happy that home was reasonably close by and we could get home quickly to spend time with her and Noelle's family when we needed to.
TBEX Europe On The Costa Brava, Spain
A travel blogging conference called Travel Blogger Exchange, or TBEX, brought us to the Costa Brava in Spain. This was our first conference and we had no idea what to expect but we learned a lot. Travel bloggers from around the world attended and we met some incredible people over the few days in Lloret De Mar.
At the end of the event, we were invited on our first FAM trip, cycling from the Pyrenees to the Costa Brava over three days with a small but great group of travel bloggers and local Catalonians. Cycling through small villages, sampling the local food and taking in the jaw-dropping Catalonian scenery was something we'll always remember fondly. And finishing up with a sea-kayaking trip on the Costa Brava was the perfect end to an amazing trip.
Backpacking For A Month In Morocco
After the conference, we booked our flights from Spain to Morocco, a country that had been on our list for quite some time. It was to be our first time in Africa and we were brimming with excitement. It was back to proper budget backpacking in Morocco; taking local transport, going to markets, haggling with the local vendors and figuring everything out as we went. We were back to what we love.
During a month of backpacking the width and breadth of the country, we had some incredible standout experiences; exploring the narrow streets of the medinas, sampling the local food, drinking more mint tea than you could imagine and watching the sunrise and set in the Sahara desert on camelback.
We visited Berber villages, blue cities, coastal towns and movie sets but the mountains blew us away… literally!
Jebel Toubkal, North Africa's highest mountain had it in for us with some atrocious weather. But we persevered and summited on a day when almost everyone was turning back but two English military groups and a handful of other independent hikers like ourselves. Given the weather, it was a great personal achievement and we enjoyed every moment of it.
A Best Friend's Wedding And Valencia, Spain
After a month in Morocco, we jumped on a plane to Spain, for one of our best friend's weddings. It was a brilliant occasion and we were so thankful to have been around Europe at the right time. Being able to share in the celebrations and hang out with our friends after not seeing them for 6months was brilliant and the craic was had! At the end of the few days in Blanes, we had no idea where we were going to go next.
After searching and searching online, we found an Airbnb rental in our price range and along with another of our best friends we were off to Valencia. Set next to the beach with cool architecture, old and new, Valencia was the perfect place to hang out for two weeks, chill out and see some of the city. Our friend had a local buddy who was really good to us, taking us around the city, into the surrounding rice paddies and down the coast. It made the time in Valencia even more memorable.
BusAbout Iberian Adventure – 3 Countries, 2 Continents, 1 Week!
After making some connections at TBEX we were due to do another FAM trip with BusAbout, visiting Spain, Portugal and Morocco in just 7 days. This was definitely not our usual style of travel but it opened our eyes to the pros of group travel and we had a blast. It was such a weight off having someone else call the shots. The tour took us to places that we hadn't been before and some that we had. But most importantly we got to see a Flamenco performance; up close and personal that had us both almost in tears by the time it was over – fabuloso!
Our First-Ever Housesit In Algodonales, Spain
Housesitting was something we had wanted to do for a long time but had never found the time for. When things were getting tough financially, we were very lucky to get a two month housesit in a small Andalucian village in the south of Spain through Trusted House Sitters. The heat was draining, the internet was terrible and we had four dogs to look after. However, despite the frustrations, it was a wonderful experience. The dogs were brilliant, the countryside was beautiful and we had the use of a car to explore the area and take a trip to drive to Gibraltar to visit the famous English territory.
Noelle Turned 30 With A Huge Surprise!
Brian celebrated his birthday at the house sit, applying for his Australian visa at the very last minute before turning 31. Being so close to home came to our advantage once again as Noelle's family flew out to surprise her for her 30th birthday. She hadn't a clue that they were coming and her reaction was priceless!
Moving To Chiang Mai And TBEX Asia, Thailand
With TBEX Europe being so beneficial, we thought that going to the first TBEX Asia in Bangkok was a smart move. Chiang Mai has long been a destination for digital nomads and we have heard countless tales of opportunities to network and meet people in the small city in the North of Thailand. And so we decided to give it a go. Chiang Mai itself is a cool city, with heaps of temples to explore, easy access to the surrounding countryside and a great network of expats to connect with.
During our time in the north, we took a few days trip to Bangkok for TBEX Asia, keeping our apartment and scooter rental in Chiang Mai while we were gone. We tried Thai Boxing, took part in a Thai vegetarian cooking course and met loads of other travel bloggers on our trip to the Thai capital. On returning to the north, our visa was almost up and so we entered Laos for about twenty minutes on a visa run. Having stepped over the border, gone through immigration and with a Laos visa in our passports, we felt like we had cheated or done something wrong. It felt strange being granted permission to visit the country, paying for a visa and not utilising it in any way. We certainly don't 'count' Laos as a country visited and look forward to going back again someday to travel there properly.
Blog Awards Ireland Winners 2015!
The Blog Awards Ireland process began in Spain, where we were nominated and qualified for the long list, the short list and eventually we were listed as finalists. It was fantastic news and we couldn't believe it but things only got better. One morning in Chiang Mai, we were on Twitter browsing through the tweets from the Blog Awards Ireland the night before. We found a tweet that said we had won Best Personal Travel Blog. So, we checked, double-checked and triple checked and it was true… we had won Best Travel Blog! We quite literally danced around the kitchen of our Chiang Mai apartment, ecstatic at the news. It was such a huge achievement for us; we were and still are over the moon with this accomplishment – definitely one of the highlights of 2015 for us.
Growing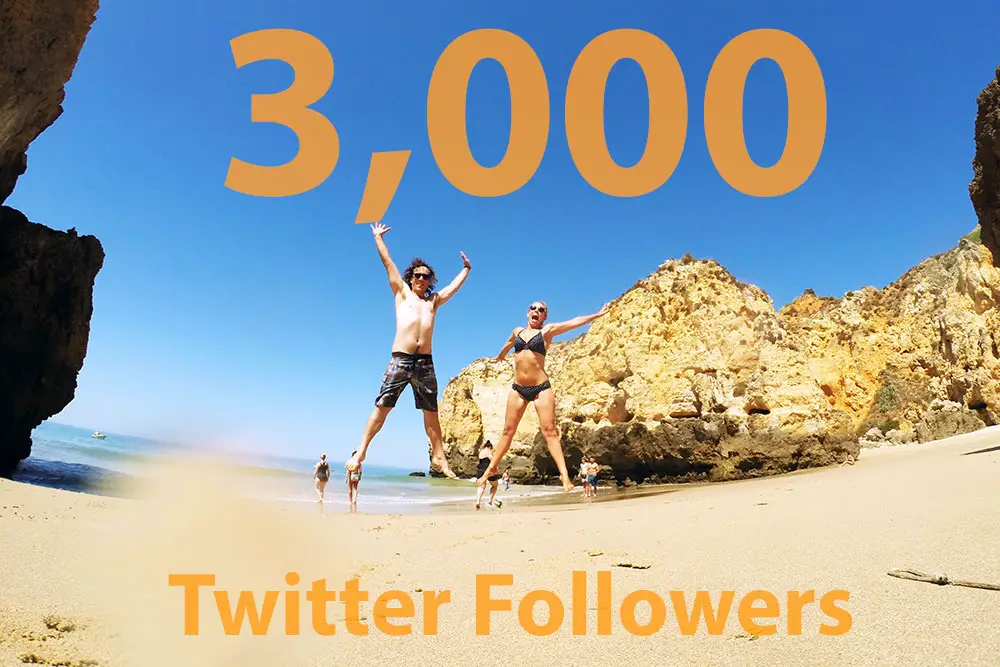 2015 has been a huge year of growth for us and for our blog and it's all thanks to you, so thank you! We reached more than 5,000 followers on Twitter and Facebook grew to over 3,000. Instagram has just about reached 2,000 followers and we celebrated hitting 1,000 Pinterest followers earlier this year. More people are reading our blog every day and signing up to our monthly newsletter, which is absolutely incredible – we're so chuffed. And Snapchat is on the up and up all the time (add us @WanderingOnBlog) while the other social media channels continue to grow.
The best thing about this, of course, is being able to connect with so many like-minded, travel-hungry people around the world to share our adventures with. Tweets, comments and emails from different readers keep us going when the going gets tough and we are so grateful for that. We've received kind words from readers telling us how we have inspired them and helped them in their travels. It's heart-warming to get that kind of reaction and it motivates us to keep writing, photographing and connecting.
Finishing Off Our 2015 Travel Year With An Epic 3 Month New Zealand Road Trip
Since that start of November, we have been driving around New Zealand in a motorhome and are blown away by the beauty of the country on a daily basis. We have been snapping, Instagramming and taking tonnes of photos throughout our trip so far and the adventure is still going.
Standing at the northern tip of the country at Cape Reinga, hiking the Tongariro Alpine Crossing, trying SUP for the first time and flying down the Whanganui River on a jetboat, mountain biking in Rotorua, visiting Hobbiton and exploring Wellington are just some of the adventures we had on the North Island alone!
So far on the South Island, we've been swimming with seals, sea-kayaked through Abel Tasman National Park, hung out in Golden Bay, explored the vineyards of Blenheim, been whale watching in Kaikoura and celebrated Christmas on the beach in Christchurch! And we feel the best is yet to come! You can follow the rest of our NZ adventure with the hashtag #WanderingOnNZ.
The Best Travel Year Yet – Roll On 2016!
With such an epic travel year under our belts, we can't wait to see what 2016 has in store for us. From New Zealand, we're going home to Ireland for a few weeks for a wedding and to spend time with friends and family in February. It will be a year since we were home so we're looking forward to seeing everyone. From there it will be Eastern Europe for two to three months, with Prague looking like our base of choice before a quick trip home to repack for Australia to start the working holiday visa. From there, who knows but that's what makes this lifestyle so exciting. Anything could happen and we're perfectly ok with that!
THANK YOU!
What a travel year it's been and we want to say a HUGE thank you to you all for reading our blog and for every comment, like, share, tweet, follow, email, snapchat, messenger pigeon, smoke signal, etc. Your support means the world to us and we are very grateful to be connected with such a diverse, open-minded, awesome group of people around the world.
What were your highlights of 2015? What are your plans for 2016? Whatever you're up to, we want to wish you all the best for the New Year and we look forward to bringing you more photos, videos, posts and everything else as we move into 2016 – bring it on!
Pin It!