Hoi An is a beautiful, picturesque town about halfway up the coastline of Vietnam. There are a few beaches on the outskirts of town but the town itself is the real star of the show here. With minimal traffic in the town centre, it's easy to get around on foot and wandering the streets here is like touring around a living museum. In fact, the Ancient Town is a UNESCO World Heritage Site and with the number of shrines, temples and ancient buildings peppered throughout Hoi An it's no wonder that it has received this accolade.
Hoi An Vietnam Survived The Devastation Of War
The town served as a major Southeast Asian trading port from the 15th to the 19th century and the buildings reflect the influences of all who passed through here. It's the only town in the entire country that survived the devastation of the war and remained virtually untouched. Almost all the buildings are constructed from wood, combining design influences from Vietnam, China and Japan. The houses follow the plan of house, yard, house and you can go in and out of some of the more famous ones on your one day ticket.
Things To See And Do In Hoi An
On one side of the old town, a river runs along where locals will take you for a one hour paddle around the little harbour area. Bigger traditional boats sit, moored on the tranquil waters and serve for great photo ops with the yellow traditional buildings of Hoi An in the background.
Explore Hoi An Ancient Town
As romantic a notion as you might be getting of Hoi An, don't be mistaken, this is a tourist town. Actually, it's probably one of Vietnam's most visited towns. The vast majority of these beautiful old buildings are occupied by restaurants, cafes, souvenir shops and tailors. Older tourists go by in convoy on cycle rickshaw and at night people are shooting glow in the dark toys into the sky. It can be a bit of a circus but should not be overlooked and not left out of any Vietnam itinerary.
Explore The Surrounding Countryside By Bike
If you want to escape the town for a while then take a bicycle and get lost in the rice paddies that separate the outskirts of Hoi An and the beaches to the north. Cycling along the roads comes with its own risks as trucks, buses and taxis zoom along next to you. You can get off the road at places and see more of real life. Buffalo work in the fields, locals farm the fields and people look out from their porches smiling. We even cycled past a man out walking his buffalo along the path; a mother and baby, pretty cool!
Visit The Markets In Hoi An
Back in town, there's a fruit and veg market at one end of town and it's a hive of activity. Elderly women sit around their fruits and vegetables in the traditional triangle-shaped hats selling their produce. There's a fish market too and most of the vendors didn't seem to mind you taking pictures of what was going on. A very 'real' part of the town that serves as a welcome break from the calls of "suit sir", "come look in my shop" from the tailors around town. Be aware though if anyone comes offering you a 'free tour' of the market as you will inevitably end up at a tailors workshop at the end of it.
Check Out The Beaches Near Hoi An
There are a few decent stretches of beach near Hoi An, which are all within cycling distance, depending on your energy levels. Cua Dai Beach is the main beach, just 7km from Hoi An. There are a few budget restaurants and homestays in the area. Along the beach, there are a couple of bars serving up a bit of everything and most have sunloungers outside them. One rents surfboards. An Banh beach is another option, just 5km from Hoi An where most of the expensive resorts are located. Still, you can get your $1 lunch here on the beach, served up from a one top stove and a cooler box by a happy local. Happy days!
Over To You – Have You Been To Hoi An?
Have you visited the Ancient Town of Hoi An? Did you love it? Let us know in the comments below!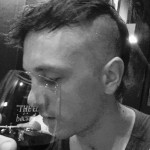 Brian is a travel writer, photographer, blogger, travel addict and adventure-junkie. Being outdoors, getting off the beaten track and outside his comfort zone is what makes him tick. Brian's the dreamer in the relationship; when he's not travelling, he's dreaming about it! Keeping fit, cooking, music and red wine take up the rest of his time.
SUBSCRIBE FOR OUR FREE EBOOK
Sign up for our free travel photography Ebook "Faces of Nepal" and you'll also receive our monthly newsletter.