We've been there, browsing online endlessly for the next travel destination inspiration. With social media and various travel websites making everywhere look incredibly perfect, it can become overwhelming trying to choose your next travel destination. A simple case of too much information!
Maybe you give up on the web and go old school, more simplistic, heading to a local travel agent for some brochures of the best holiday destinations on offer. Maybe a spot of scuba diving in Malta or hiking in Tenerife? Aaah! This is only making things worse! So you head back online to check out some flight prices, maybe that will make your decision easier. You see that there's a huge sale on flights at the moment. Score! Wait – no! With so many incredible destinations on offer for peanuts – how are you ever going to choose now?
How To Choose Your Next Travel Destination
Tips To Help You Choose Your Next Travel Destination
How we decide where we travel to next can depend on a lot of different factors. Everything from the cost of living in a destination to the weather and seasons can come into play. We'll share our process and some tips to help you choose your next travel destination with ease.
Come Up With A Bucket List
Well presumably you already have more than a few places in mind, that's the problem. Try to narrow these down to places that you really would love to go in your life into a kind of travel bucket list. This should help to cut your destination list down a bit.
How Much Time Do You Have?
If you can only get away for a couple of days or if you have a couple of months to play around with then this is going to influence both where you go and how far you can travel. If you live in Europe, you're certainly not going to cram in a road trip in Australia into a two-week window unless you want to have a rushed, unrewarding holiday. You could, however, go scuba diving in Malta or check out some of Europe's iconic cities.
Consider Your Interests
Consider what you want out of your trip. If you're like us you'll try to go places where you can keep up with your hobbies while you're there. We love hiking and always try to incorporate some walking and mountain climbing in a new country. When we chose to go to Tokyo for ten days in August 2014, it wasn't the only reason but a huge impact on the decision was because it was the season to climb Mount Fuji, a mountain we had always wanted to climb.
So, ask yourself some questions about what you want to do or see. Do you want to explore a new city, hang out on the beach or maybe get lost in the mountains? Do you want to do some active, healthy activities on your trip or have you been working really hard and you just want to relax and chill out and get a tan? Is shopping and eating good food important on the itinerary? Or maybe you're more of a culture vulture? Maybe you're an adrenaline junkie and want to get a hit on your holiday. Or you like to do water sports? All of these questions should narrow your choices a bit further.
Consider The Weather And Seasons
Do you like to experience hot or cold weather? Winter or summer? While travelling in the low season can be a money saver and sometimes can work to your advantage, it can also have a huge impact if the weather is not right to do the activities you had planned. You're not going to get much of a tan or enjoy chilling out on the beach with a cocktail if it's raining all day because it's the middle of the monsoon season. If you're planning a ski holiday, it wouldn't be wise to book a trip in the early shoulder season if it has been a mild winter that year. If you've only got a little time and you can't wait around for the weather to improve, you'll just have to grin and bear it. So it's very wise to do a little research, check the weather and take the seasons into consideration to reach your decision.
How Do You Like To Travel?
Ask yourself how you want to travel? Are you the kind of person who likes to travel independently and organise every last detail yourself or do you find that extremely stressful and prefer to have everything organised for you in advance? Maybe group travel appeals to you more than the idea of a solo trip? This should have an impact on the destination you choose as certain less visited destinations will require a lot more planning than other well-trodden travel destinations.
Where Do You Want To Go?
Where do you want to go? Would you like to get off the beaten track or would you rather a tried and tested destination? If navigating Fez's medina in Morocco or visiting Mumbai's slums sound more appealing to you than visiting Paris or Amsterdam this will make your choice a little bit easier. We love getting off the track most of the time but of course, the most visited places are popular for a reason – they're amazing!
What Kind Of Budget Do You Have?
Obviously, you'll have to consider your budget when choosing your travel destination. If you can't afford to splash the cash then it's probably best not to run off and book flights to Switzerland or Scandinavia! While you can travel in most destinations on a budget with a little careful planning, you'll definitely get more bang for your buck in Kuala Lumpur than in Kyoto. It's always a good idea to check out the cost of living or research to get a rough idea of costs and if you're watching your money then this should really help you to choose your next travel destination.
Who Are You Travelling With?
Who you're travelling with will have a huge impact on where you choose to go. If you're travelling as a family with very small children in tow then you'll definitely want to choose a destination that's family and child-friendly. If you're going on a lads or girls holiday you'll choose a completely different destination as you would for a romantic getaway with your significant other. If you're travelling solo you may choose different accommodation like hostels because of their added chance to socialise with fellow solo travellers.
Also, if you're not travelling solo, you need to consider the interests and needs of your travel partner too. For example, Brian loves to surf and I do a lot of yoga, so we chose to live in Bali for two months so we could both pursue these interests while enjoying the Bali lifestyle – a win-win!
Still Struggling To Choose Your Next Travel Destination?
We know how hard it can be to reach a decision – so many places to go, so little time! But by considering a few simple factors like your budget, your interests and your travel style it should hopefully, make it a little easier for you to choose your next travel destination.
Over To You
How do you choose your next travel destination? In a similar way? Did these tips help you to plan your next trip? Do you have any other tips? Let us know in the comments below!
Pin It!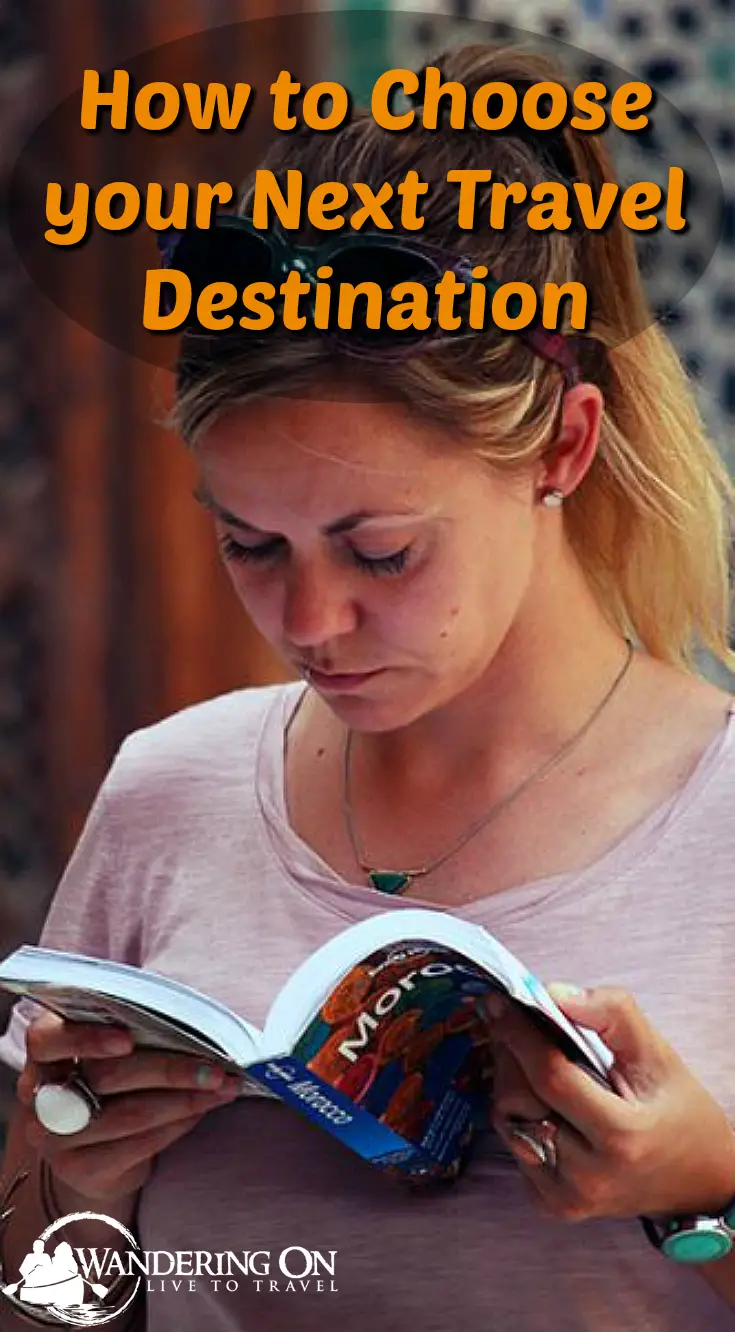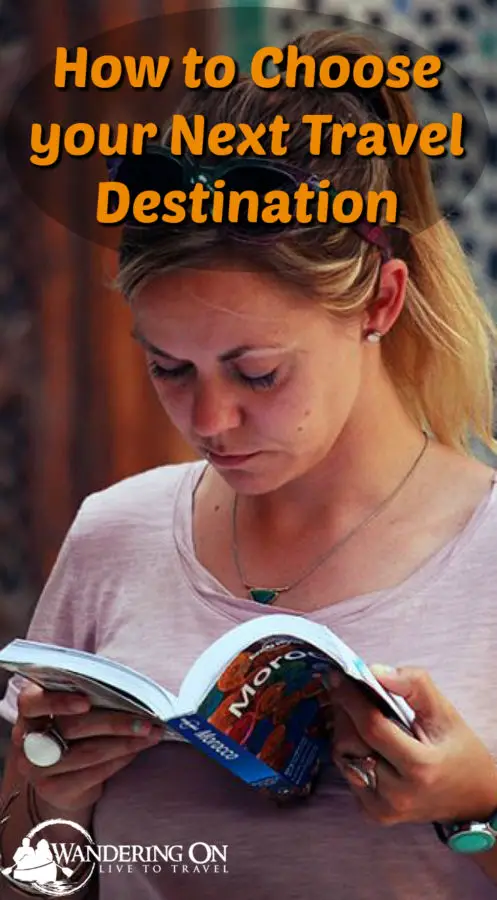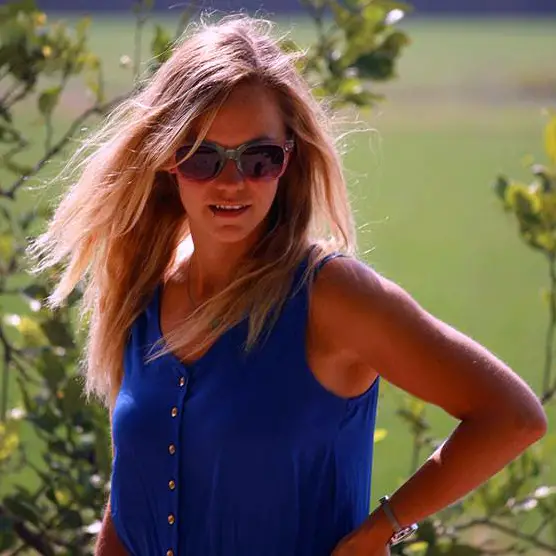 Noelle is a pescatarian foodie, travel junkie and a massive dog person. She's a self-diagnosed chocoholic and loves tea, coffee and red wine. She also loves to do yoga and therefore is the sensible, grounded one in the relationship! Noelle loves to really get to grips with the culture of a country and the mindset of the people. She also enjoys picking up a few words in the local language wherever she is and, of course, sampling the local food!
SUBSCRIBE FOR OUR FREE EBOOK
Sign up for our free travel photography Ebook "Faces of Nepal" and you'll also receive our monthly newsletter.